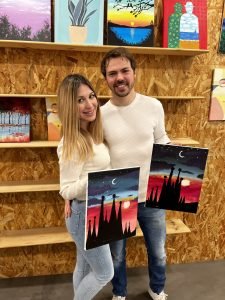 Wine Gogh hace que cualquier plan en pareja sea especial gracias a la amplia selección de opciones que te ofrecemos para disfrutar y pintar en Madrid y Barcelona junto a tu pareja.
If you are celebrating an anniversary, a birthday, or simply want to spend time together, this is your perfect plan. You can enjoy this opportunity to be creative together and share a glass of wine while painting. 
No hay mejor forma de pasar tiempo de calidad con tu pareja mientras disfrutáis de lo mejor del arte y del vino. ¡Y solo por 39€ cada uno!
Art with a romantic style
We want you to enjoy your special day as a couple as much as possible, therefore, we offer a plan filled with creativity and accompanied by a good wine.
Aprovecha el momento para sacar tu lado más creativo junto a tu pareja y disfrutad de una copa del vino que más os guste. Ven con tu pareja a una de nuestras clases y compartid la pasión por el arte y el vino con las demás personas que forman parte de nuestros talleres. 
Classes have a duration of two and a half hours, more than enough time to let your imagination fly alongside your partner and some good wine. It's also a chance to make new memories together. 
Y si quieres algo más personal, puedes contactar con nosotros para reservar una sesión privada solo para ti y tu pareja. Aunque, compartir es vivir, ¿no? Que mejor forma de crear arte que compartiendo vuestro amor con otras personas. 
With Wine Gogh love is in the air
You choose where and when you want to have that special date with your partner. You can come to our establishment or choose a place that is symbolic for both of you, just let us know and we will help you create the perfect date. 
Book, in our studio, your art and wine experience with us and enjoy with your partner and more people a unique evening full of fun. 
If you want to prepare a surprise for your partner and gift them an art and wine experience, at Wine Gogh también te ayudamos a crear el regalo perfecto. 
¡Qué mejor regalo que vivir una experiencia en pareja!
Whether you've been with your partner for years, you've just met, or you've only known each other for a short time. It doesn't matter. We will make the experience we offer you as romantic as if you were going to the most romantic restaurant in town. Also, let us tell you that you don't need to have a partner to enjoy one of our evenings. If what you want is to meet people, this plan is also for you.
On the other hand, couples enjoy our experiences as much as those who come with friends, family or alone. But if you and your partner want to have a more private evening, we can also offer an individual plan for you and your partner. Only contact with us and we will give you all the information you want to know. 
We take care of everything. All you have to do is invite that special person and enjoy!
In summary
Our art and wine experiences are ideal for friends, couples, families or to come alone. Enjoy with the person of your choice 2 hours of class de pintura mientras saboreas el mejor vino de España y compartes este momento con el resto de asistentes al taller. El precio es de 39€ por persona ¡todo un chollazo teniendo en cuenta la calidad de la experiencia!
Book your experience to enjoy a day alone or with your partner, you decide. If you come as a couple, you will be able to enjoy this magnificent plan with other couples. On the other hand, if you come alone, maybe you will meet that person while you bring out your creative side over a glass of wine. 
As mentioned above, if you want to more privacy, you can also book an exclusive experience for you and your partner. 
Choose who you want to come with and enjoy the day.