For the first time in Wine Gogh we take wine as a protagonist to create a work of art. In this workshop we will teach you how to paint your wine glass while you enjoy a complete experience with us.
Wine and art have always gone hand in hand, so we could not miss the workshop in which we show you how to paint a glass, so grab a canvas and a brush and let's get started.
A unique Wine Gogh workshop: how to paint your wine glass
As we said, this Wine Gogh workshop focuses exclusively on wine, but that doesn't mean we're going to leave out everything else that characterizes the Wine Gogh studio.
However, before we start with the details of the workshop on how to paint your wine glass, we want to tell you that, at the end of this article, we are going to dedicate a few paragraphs to remind you what a Wine Gogh experience is all about.
In case you are new around here and don't know what Wine Gogh is, we recommend you to go first to the end of the article to better understand who we are and what we do, or, on the contrary, we leave you with this link where everything is explained in much more detail, in case you have any doubts.
If you are already familiar with our services and you already know who Wine Gogh is, read on because we start with the important details so you can participate in the workshop and paint your wine glass by yourself.
Without further ado, let's get started!
The new workshop to paint your wine glass
At Wine Gogh we specialize in offering one of the best art and wine experiences, as you will read in the following section. That is why we want to take the second key element of our experiences, wine, as the protagonist in this workshop.
First of all, you will arrive at the place where our staff and instructors will take you to your seat to start the experience. It doesn't matter if you come alone or accompanied, with us you will have a great time and meet people who are looking forward to having fun.
In our studio, wine and art are enjoyed accompanied by music, so this workshop was not going to be less. We have music for all tastes, but if you have any special request, just let us know.
Once all the workshop attendees are present, the workshop will begin. Two hours full of creativity, fun and different wine aromas. The key is that you can paint your wine glass the way you want, the way you want and with the style you want. But, as we explain below, if you are not sure, our teachers will give you all the indications.
With us, you only have to worry about choosing your favorite wine to enjoy the moment and discover your inner creativity. Even if you feel like it, you can paint your glass of wine that you are drinking at that very moment, since there is no obligation here.
You can choose the style you want, the technique and what to paint, although, well, in this case, you can paint the wine and/or the glass you want and the way you want, because with Wine Gogh, freedom is the number three ingredient of the experience, because the first ones are the art and the wine 😉.
If you are still hesitating whether to come or not, or you don't know what kind of atmosphere you are going to find in our art and wine studio, we recommend you to take a look at our social media. Here you can get to know us better and see how much fun everyone who attends our workshops and experiences has.
Wine Gogh, meet us!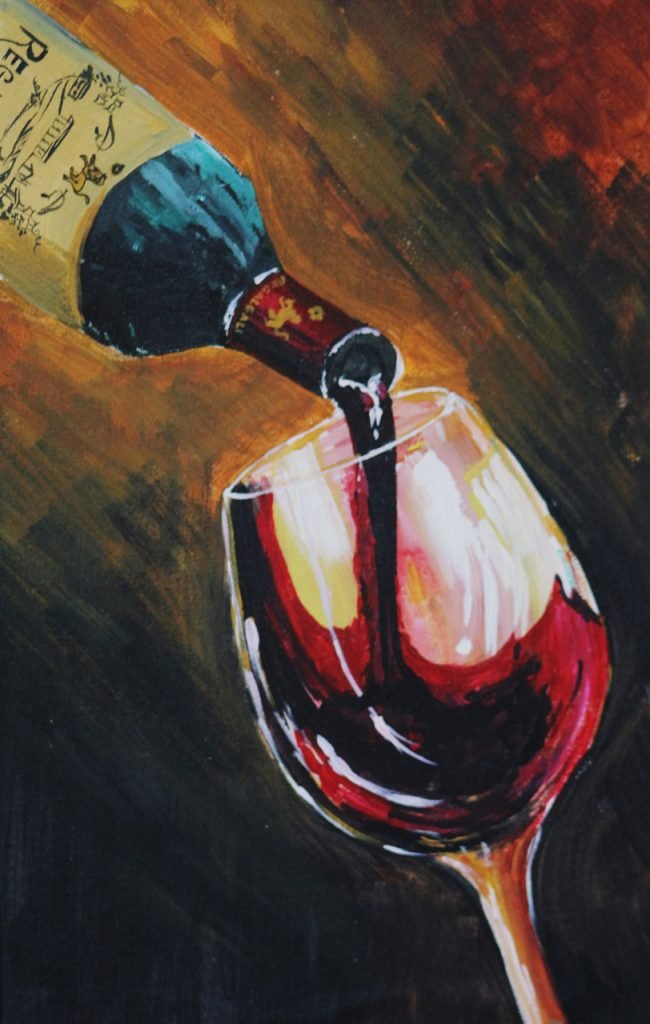 At Wine Gogh we offer you a unique combined experience of art and wine. With us you will be able to enjoy the best of the two things that make up our core business. Best of all, it is a perfect moment to spend time with yourself, meet people or enjoy with your loved ones in a unique way.
Our teachers will be at your disposal to ask all your questions. Also, in case you are stuck or don't know what to paint, they always have a theme, technique or style ready for you to get started. But if you already know what you want to do and how to do it, go for it!
Además de disfrutar de dos horas llenas de creatividad, música y de charla con personas, vivirás una experiencia de aprendizaje académico explicada por un profesor de bellas artes muy especial. Elige el que más te guste y disfruta de los mejores sabores y aromas del vino español.
Needless to say that at Wine Gogh we take care of everything, all by ourselves. You don't have to worry about anything, just enjoy, because we prepare all the material and the studio so that you have the best experience.
Don't hesitate any longer and book your placeThey're flying!