Summer is the time of the year when we get together with our loved ones, friends, family, etc., but it is also the time when we make the most plans and look for activities to enjoy. Therefore, we bring you an option that never fails.
The Costa Brava celebrates White Summer, where you can find numerous activities accompanied by music, food and drink. For example, you can take advantage and create your own tote bag with Wine Gogh.
If you want to know more about this plan and how to spend some incredible days on the Costa Brava, keep reading because we are going to tell you all the details.
White Summer – Market & Music Experience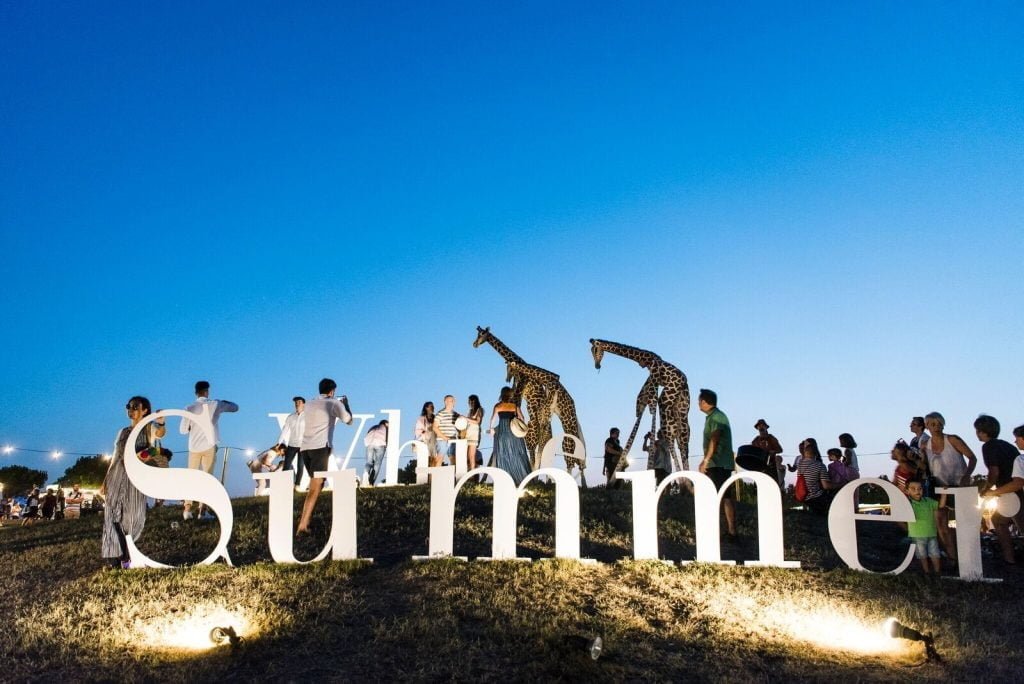 First of all, before starting with the real subject of this article, we would like to explain what White Summer is, in case you did not know it previously or were not very clear about it.
The White Summer is a Pop Up Market and Summer Music Festival on the Costa Brava with countless activities for the whole family that you can enjoy in a family environment. This year it will take place between August 5 and 28. This year is a special edition, as they are celebrating their 10th anniversary.
In this Market-Festival you will have the opportunity to taste the local gastronomy thanks to the different foodtrucks located throughout the venue. In addition, there are concerts of emerging musical talent, many types of workshops and family games, which are focused for the youngest of the house. A very complete experience.
The point of this article is that, this year, Wine Gogh will be part of the White Summer, where they will place a stand where you can enjoy the Wine Gogh experience, but in another location. But, the novelty, is that it will not only focus on art and wine as usual, but you will be able to come and create your own tote bag as you like!
¡Welcome to White Summer!
Wine Gogh in White Summer
First of all, if you are here is because you already know us, but if not, we leave you with this link where we explain who Wine Gogh is and what experience we offer.
Now that, I guess you have read about us and, by now, we know each other, let's proceed with the main topic of this article, creating your own tote bag!
We will be at White Summer from August 5th to 28th, dates in which you will have access to our exclusive tote bag workshop. Not only will you get a tote bag, but during the process of creating your own perfect tote bag, you will have enjoyed one of the best rosé (or white) wines in Spain.
Create your own tote bag with Wine Gogh
A tote bag is, in short, a large fabric bag with a large capacity. There are as many designs as you can imagine. They come in all colors, with different designs, different styles, etc. There is something for everyone's taste. But it is also very fashionable to create your own tote bag and that is what we offer you in our workshop.
As we mentioned at the beginning, in the White Summer there are different tents where you can make numerous workshops, whether you are an adult, teenager or child. In our case, we wanted to give you the opportunity to create your own tote bag, totally to your liking.
Come with us and we will make your ideal bag go with you.
First of all, we want you to know that we provide both the bag and the paint with which you can make the design.
If you are an artistic and creative person or you like painting, we have textile paints for you to use on your tote bag and make any design you like. More elaborate, less elaborate. More colorful, less. It's up to you. If, on the other hand, you don't have much idea of painting or you don't feel like getting down to work, we have different templates from which you can choose your favorite design and we'll take care of the rest.
In addition, we have Stencil templates, which are very easy to use and with which you can have a quick, simple and beautiful design, completely to your liking, as you choose.
You will be able to make designs like the ones shown below:
Tote bag designs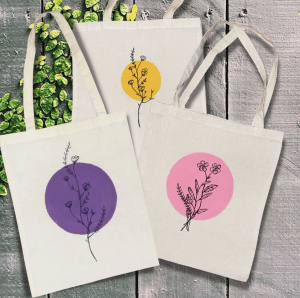 This design is one of everyone's favorites. It is simple, but colorful. Of course, needless to say, you don't have to make this particular design, it's just an example, so you can see the types of designs you can make. Anyway, as we told you before, we have textile paint for you to create your tote bag from scratch, so you don't have to follow any template if you don't want to.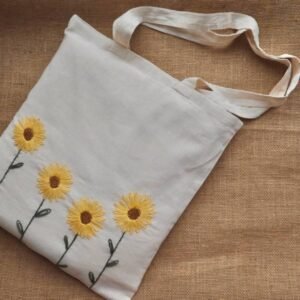 Although the image shows embroidered sunflowers, one of people's favorite patterns is the sunflower. It is easy to make and colorful, making it an ideal print for summer. Plus, you can always choose to paint one, two, three or as many as you want.
Writing words or phrases is another favorite of everyone. In this case, it is a word accompanied by two cat silhouettes, but here comes into play your tastes and see what you prefer and how you would like your tote bag. In addition, a tote bag topicality are the motivational phrases, some of them sin of being too typical, but there are some that are worthy of carrying everywhere.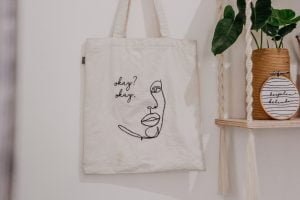 Another of everyone's favorite options are minimalist drawings. For example, the silhouette of a face, a wave, your favorite object, whatever you want. The best thing about this design is that it is very simple and you can do it with or without a template.
Summer is a time when we like to take a break from routine and do different things that we can't do in winter. That's why it's the preferred epic for festivals and the months of the year when you're most likely to try new things. Regardless of whether you like to paint or not, try the experience of creating your own tote bag, you will really end up delighted and with a gift 100% created to your liking.
If you want to discover how to get your perfect tote bag, just come with us to White Summer and enjoy the best summer afternoon.