How many people would like to have what we call an artistic streak. To enjoy an afternoon of art, to use the painting as an activity to de-stress, find inspiration, level your emotions or simply express yourself and distract yourself by painting a picture.
Discover how to paint a picture
If you really believe that you have what it takes to leave in each piece of art a painting that speaks of what you internally visualize, feel or desire. You want to discover and try to know what you are capable of, make it your hobby. Let yourself go and live the experience even once. Then you should take the next step and start to get to know how to paint a picture, do it yourself.
Undoubtedly, in order to get started and know how to paint a painting, it is essential that you know the different techniques, paints and materials you will work with. By choosing the one that best suits you, the one with which you feel identified, you will be able to continue with the rest.
A process of artistic creation can be built from the interest, the illusion and the feeling of thinking that you will certainly be able to open your mind and let yourself be infected as well as moved. This form of expression called art brings out all kinds of emotions, allowing a connection that is both rewarding and gratifying, whatever the result. It is all about living it and feeling it, helped by the skill and mastery you create when you receive the technique.
The disconnection in many opportunities is important to find yourself and let the artist flow.  Through what you learn and the right materials you will get a very good painting. Developing the art of painting involves more heartfelt techniques. How to build a painting? Visualize as many techniques as you consider, you can explore without problem, let yourself go.
Now, having clear the technique you will use or at least a notion of which one you are more inclined towards, you can establish and acquire the basics to achieve your goal. I take this opportunity to tell you that many of those who still do not visualize clearly in any of them are recommended to start with watercolorSince it is one of the least complex and easy to use when painting a canvas.
The 3 things to consider
Physical space: this first point is very relevant, since it is not only about physical space in terms of furniture and layout. One of the most important things is that the place is suitable for concentration and inspiration. There should be no distractions and of course little noise, but it should be a large space with good lighting and ventilation.
Materials: it is very clear how essential they are. Without them how to start any work. Make sure they are always available near the area to be used, not only for practicality but also because you don't want interruptions of any kind. Now, we could talk about a lot of materials, but certainly everything will depend on the technique you are going to use. So let's mention the basics: pencils and erasers, paper, brushes, easel or smooth and rigid surface, palette for paints, paints, canvas or paper suitable for the technique to be used. Remember to add, depending on the technique to be used, those that are specific to your painting, you should try to have everything at hand before starting.
Preparation: with everything ready to start your fantastic painting, the next thing to do is to understand and internalize that art is also inspiration. Therefore, it cannot be carried or treated as if it were a race. Painting, producing something from nothing also has within its meaning the word patience and this is sacred. So it is up to you at this point to take a deep breath and learn to familiarize yourself with everything you have arranged around you to begin with.
Respecting art and understanding its power will help you prepare. In addition, it is essential to have respect and extreme care for all the elements and materials that are available for the elaboration of your painting. Be careful with the position and protection of your easel, choose very well the painting area. Help yourself experimenting beforehand with the range of colors and their textures, also with the variety of brushes with which you will work. And what if you are looking for a few moments to relax and start totally renewed, even if you want to turn this into a hobby you will surely want to give the best of you.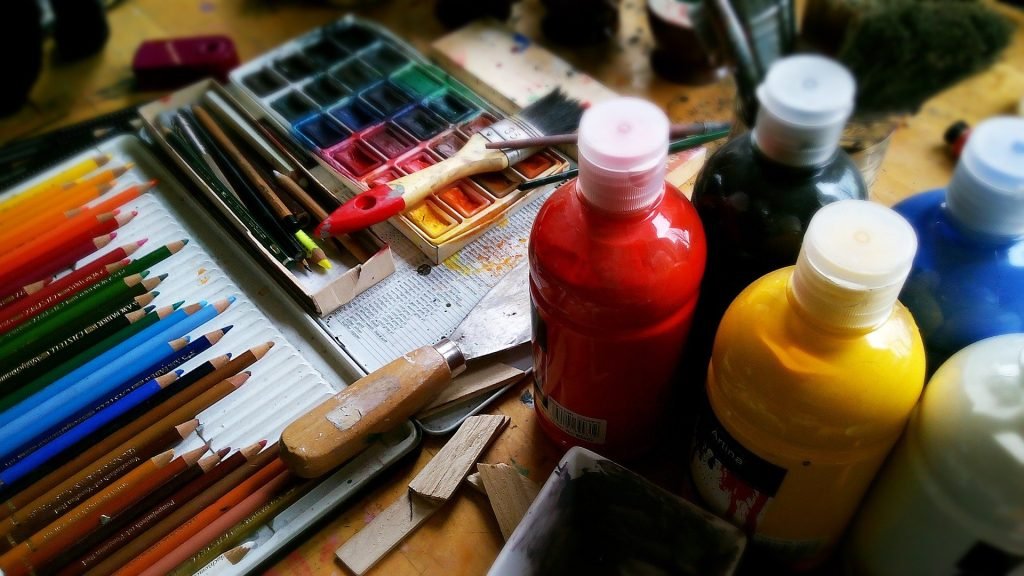 Here's how to capture on a surface your ideas and the techniques to paint a picture:
As I have already said there are several types of techniques that you can study, even so here I reveal which are the most recommended to start your dream of painting. I start with the one that is precisely the most comfortable to use,  watercolor. In short, it will always be the favorite to start with. It is a technique in which few implements are used and does not require large spaces or much planning. It is perfect for amateurs because of the practicality of its use.
The rest of the techniques for painting pictures are not impossible either, so check which is the one that might interest you the most and get to work. Among the rest you can find oil, the chalk and the acrylic.
For example, if what you want is to paint a portrait, I tell you that within the different techniques you will find many others that will lead you to make different formats. The portrait is one of them, but do not get overwhelmed, what I mean is that this is a beautiful and infinite world in which you can develop an endless number of items.
Making an artistic picture, painting it. It has to do with creativity and knowledge of the different methods used to paint. How light affects color and the formation of colors, light and broken colors, what are the cold and warm colors, their formation and how to obtain them. Having perspective will also help you when painting a picture. It is this art of capturing what you want in your painting, which together with the knowledge acquired and the desire to convey or represent something will give you the final product.
How to paint a picture?
In principle, the most comfortable way is to design with pencil the drawing of what you intend to paint.
Then it would do you good to practice a few strokes with the brushes on a separate sheet to loosen your wrist and feel more comfortable with the handling of the materials and implements.
Subsequently, it is recommended to start from the outside in, so you can go from the broadest to the specific.
Then continue to go deeper and deeper into your drawing, getting to the details. Concentrate and try to let yourself go, remember the technique to achieve different dimensions and movement.
Review before finalizing the textures and lighting, what was previously said about light and how it influences your painting.
Go in phases, do not rush and above all do not give up, much less resign yourself.  If you have visualized it then allow yourself to make mistakes and continue.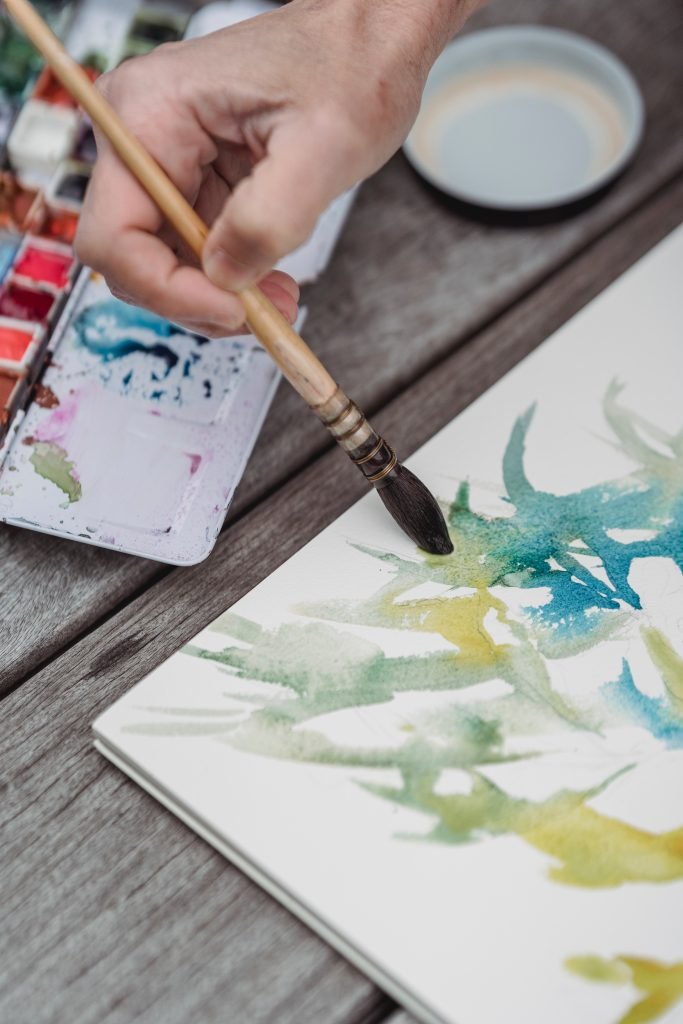 Interesting facts
What happens after the practice, which picture to paint?, it is best that by this time you have at least a clear idea of what you would like to start with. You could sketch, portray or illustrate this first painting with any image that comes to your mind or if you prefer to have previously visualized the subjects of your liking, great.
You don't necessarily have to pretend to be a professional artist, your humility when painting will be a luxury that many will see and recognize.
Internalize what you are feeling, remember that in the art of painting, creativity, knowledge and emotions prevail..
Painting a picture could be frustrating at the moment, when that happens take a pause and don't let your fears stop you. You could do different things to help you such as try another technique, paint a different subject, include relaxing music in the place where you paint, one that makes you feel good and calm. Under no circumstances give up.
In short, capturing your ideas on a surface is fantastic, so have everything ready and prepared as it should be, but at the same time open yourself and let the emotions connect with the knowledge and not the other way around. Painting a picture should interest you, be entertaining for you to the point of captivating you, so much so that you become the artist you have imagined yourself to be.
Although painting a picture requires concentration, it is also extremely delightful and enjoyable to be able to paint in a group, with your family, as a couple and even with your children. Undoubtedly, art is to be enjoyed and shared.
You see, painting a picture can be very exciting and fun, it takes you to another intellectual and inspirational level. If you enjoy it, you will surely make it a part of you.
By the way, after you embark on this journey, don't stop if you don't want to, I mean don't succumb to pressure. I tell you that many people experience contrary emotions by insisting on a technique to which they do not belong. Practice many times, do it with others and you will see that in the end you will feel comfortable, try several at the same time. Don't get stuck with just one, believe in your abilities, go for more!